Bryn-Celli-Ddu Dolmen, Anglesey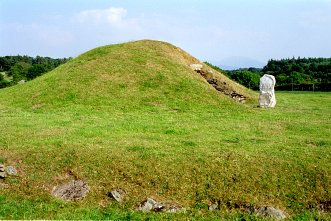 Bryn Celli Ddu - the Mound in the Dark Grove, a powerful and evocative site with the chamber concealing a single large almost cylindrical stone within. It started life as a henge, with a stone circle with a bank outside and a ditch within the circle
The ditch is still visible, and was partially backfilled when the mound was constructed. The restored mound seen today is somewhat smaller than when first constructed. The small stones just visible in the foreground of this picture are the kerbstones of the original mound.
The entrance with the replica patterned stone did not exist in the original design, but it offers a good view of the inner chamber.
The white stone in the picture is a replica of the original stone which was located at the back of the chamber. It would have been covered by the original mound which was about twice the size of the reconstruction and did not have the opening at the west which you see here. The original carved stone is located in the National Museum of Wales.
The main entrance is located at the north-east of the mound, and a passageway leads from the chamber ot the outside. A low shelf runs along the northern side of the passage