Current thinking is that the alignments were constructed incrementally, with succeeding generations adding to the alignments over the centuries. Dating the rows is vexatious, since little organic matter is available. Burl indicates [41] about 3300 BC, with an error of several hundred years.
Restoration - James Miln and Zacharie le Rouzic
Though it is romantic to ponder the triumph of Neolithic engineering holding sway, keeping the thousands of stones upright across five thousand years of weather, some more recent help was needed. Every megalithic site on this grand scale inspires, and just as Avebury inspired Aubrey, Stukely and Keiller, so Carnac inspired its recent heroes. First was the Scottish antiquarian, James Miln. He excavated many sites at Carnac - not just the stones but also the Roman camps and antiquities. Yet it was the stones that were old when the Romans camped at Carnac inspired him -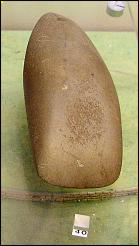 Miln hired a local boy, Zacharie Le Rouzic to carry his materials with which he drew the results of his excavations. Through assisting Miln with his work, le Rouzic gained a passion for the Carnac alignments and archaeology, and in the 1930s le Rouzic re-erected many of the fallen stones, placing them as true to the original location as he could. Ever a careful worker, le Rouzic indicated which stones had been reset with a tiny plug of pink cement at the base, so that future workers would not be confused between the restored and the original.
Miln died in 1881, leaving the results of his work to the town of Carnac, and his brother established the James Miln Museum there. Likewise, Le Rouzic left his collection to the town, and these artifacts form the basis of the Carnac museum of prehistory in the town centre, which is well worth a visit (English speaking visitors will find it worth borrowing the folder with the English translation of the captions of the exhibits).
Alexander Thom
In 1969 Alexander Thom was invited to prepare a detailed survey of the Carnac alignments. Since they consist of more than 3000 menhirs spread over a distance of about 2½ miles this was no small undertaking. The father-son team of Alexander and Archie Thom worked from 1970 to 1974, drafting highly detailed 1:1000 plans of the alignments. These showed that what to the casual eye look like parallel rows stretching into the distance have random fluctuations in the lines of stones. The result, perhaps, of the gradual accumulation of the site as successive generation added to the work of their forebears.