Nine Ladies Stone Circle, Derbyshire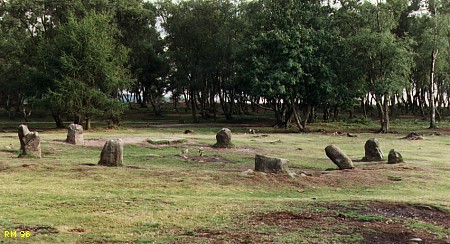 Attractively set in a clearing in the woods on Stanton Moor in the Peak National Park, with an outlier (the King Stone) 40m to the WSW.
Attractively set, that is, until Stancliffe Stone/Marshalls get to dig a dirty great hole next to the site, for the sake of quarrying stone.
Why are they quarrying near an Ancient Monument, and quarrying in a National Park, you might well ask. Although the circle became a Scheduled Ancient Monument in 1882, the quarry companies are using leases granted before the area became part of the National Park in the 1950s. To get the National Parks created, it seems these leases were granted to previous interests for a long time, hence all the trouble here.