Lanyon Quoit Dolmen, Cornwall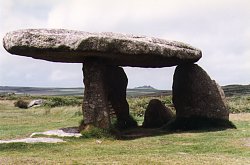 Lanyon Quoit makes a fine, dramatic photograph and features in many of the tourist publications for the West Penwith area of Cornwall. However, though the site and stones are for real, it isn't an authentic image of prehistory. The original collapsed (26) in a storm in 1815, breaking some stones.
The capstone was re-erected on three stones where there were probably more supports originally, and the axis of the monument was turned through 90 degrees.